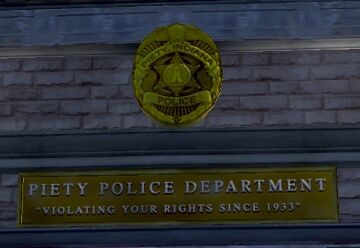 Milieu
[
]
The easiest of the three Forts in Fort Zombie.
It has three aboveground stories, a basement, and a third–floor walkout onto the roof. Entrances include the front doors, two rear exit doors and a ramp to the basement garage. The first–floor windows are elevated — you can easily sprint–jump out, but not back in.
Gameplay
[
]
The Police Station is the easiest Fort to secure. It provides survivors with a 25% health bonus.
The Police Station's first–floor Weapon Rack usually contains the Combat Shotgun, an extremely powerful weapon, along with plenty of ammo. It usually also contains a Colt New Service Revolver ( though this rarely comes with ammunition ). The presence of the shotgun has a huge effect on gameplay — using the shotgun to secure ample supplies early on makes a huge difference in the long run, easily adding hundreds of rounds of ammo to the survivors' final stockpile or freeing up time to search for survivors. If this gun fails to spawn, it may be worth it to start a new game since it is a big part of the advantages of the Police Station.
Loot
[
]
Damaged Vending Machine
Location
First floor, near the rear-left exit
Base Spot Chance
70%
Chance
Amount
Granola Bars
50%
1 - 3
Cheezholes
50%
1 - 3

Popzi Soda Machine
Location
First floor, near the rear-left exit
Base Spot Chance
90%
Chance
Amount
Popzi Soft Drinks
100%
1 - 6

ColaCola Soda Machine
Location
First floor, near the rear-left exit
Base Spot Chance
90%
Chance
Amount
ColaCola Soft Drinks
100%
1 - 3